We had a great time in Jefferson City, Mo last weekend. Brian, Matt, and I got on the road with the new trailer about 5:30pm on Thursday night. The trip was pretty
un
eventful (thank god) and we managed to find a
Wal
-Mart parking lot around midnight in Mexico, Mo and caught a few hours of sleep. We got back on the road Friday morning and arrived in Jefferson City by 10:00am. We got everything setup and to my
surprise
I actually remembered to pack everything :). We kind of ended up in the middle of nowhere with the trailer and we felt a little out there...another lesson learned, don't setup in the middle away from turn in, you may end up by yourself!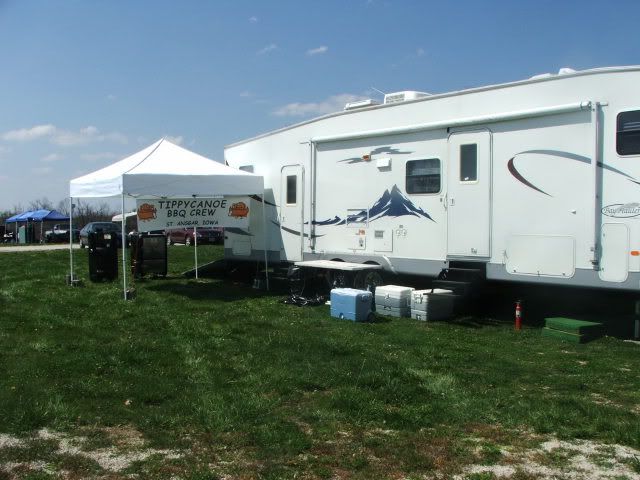 The big meats went on around midnight Friday night and the big cooker and Guru did not want to cooperate. The temps were all over the board and it took almost three hours for it to settle in around 230 degrees. I have never seen the
Fatboy
act that way and I'm still not sure what was happening there...the air just seemed a little funny(wet and heavy), maybe that had something to do with it. As
usual,
morning came
way
too fast and before we knew it it was 11:00am Saturday. The good news is once the
Fatboy
settled down everything went very smoothly.
Turn in time: The chicken came off the Party and looked great, it was pretty easy to pick out the six best/most uniform pieces. We all had a piece of chicken and agreed it was some of our best to date with one exception...it had a little too much kick to it. I must have gotten a little heavy handed with the rub. It was juicy, tender, and tasted great but I was worried about the heat. Here is a picture of the box
Ribs- The ribs came off and again we thought they were very good, they had good flavor and were tender but still left a very distinct "bite" mark when eaten. We were pleased and off they went. We somehow forgot the picture of the ribs, so you will have to trust me they looked good:)
Pork- The pork came out of the warmed cooler and we were happy with it as well. We only cooked two butts this time and one was much more tender than the other so we only ended up turning in out of that piece. Again, it came together nicely and off it went with the delivery bitch(Matt).
Brisket- I got the brisket out of the cooler and knew we were in trouble...it was a bit undercooked, tough, and dry. We sliced it up and doctored up the best six slices we could find with sauce and more rub. The flavor ended up OK, but I was afraid to see the tenderness scores already...I had made up some burnt ends, but even they were just kind of OK, I figured they couldn't hurt the score of the slices any and in the box they went.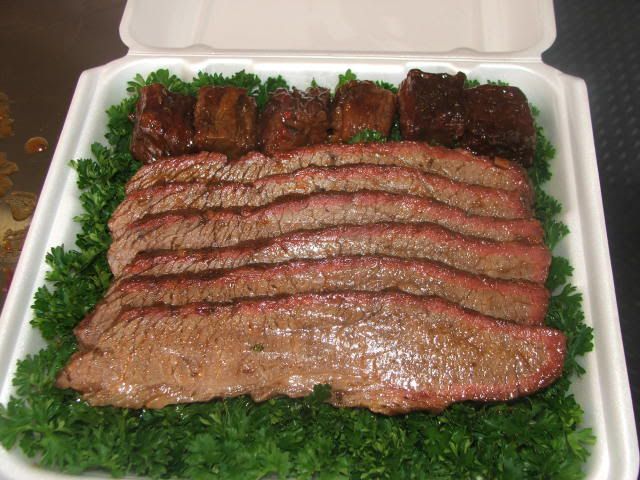 Well, three out of four isn't bad right? We were satisfied for the most part and starting packing everything up. We had everything put away and were ready to hit the road by the time the awards started. As we walked into the building where the awards ceremony was to be held I told the guys if we were going to get a call it would be in either chicken or ribs, I really felt like they were our two best of the day. After not hearing our name for either chicken or ribs I really felt like we were not gong to get a call. But sure enough in the 9th place pork position we hear our name called. It made it all worth it! As they came to the brisket category I had no hope for a call, I told Matt that I would fall over if we had placed in the top 10 in brisket. And then right on cue, 8th place brisket goes to TippyCanoe BBQ Crew. I'm still stunned at that, but was soon to be even more stunned when I got the scores sheet and saw just how poorly we did in chicken and ribs. Oh well, I guess that's the way it goes....perhaps it shows how little I know about what good BBQ should taste like:)

Results(out of 55 teams):
Overall 19th place 633
Chicken 34th place 154.3
Ribs 42nd place 148.6
Pork 9th place 165.7
Brisket 8th place 165.1
With 55 teams and some of the best on the country in attendance I was very pleased with our finish. Gonna have to figure out what to do with the ribs as the scores keep going the wrong way, I really think the extra heat in the chicken killed us there so that is easily fixed...overall I will take it. I'm already looking forward to Mn in May in Austin on May 15th...then the real season starts!!