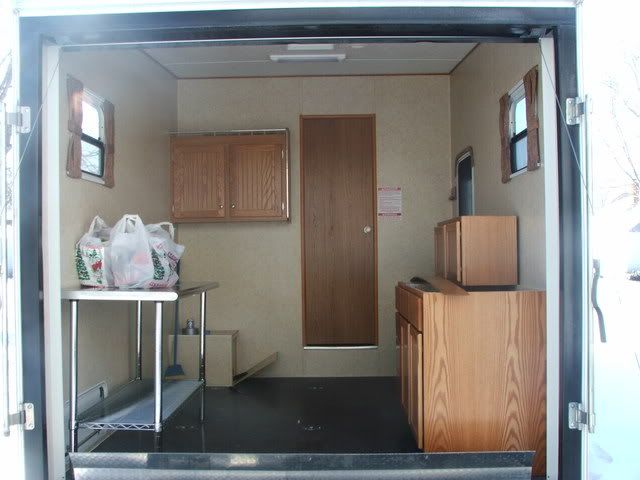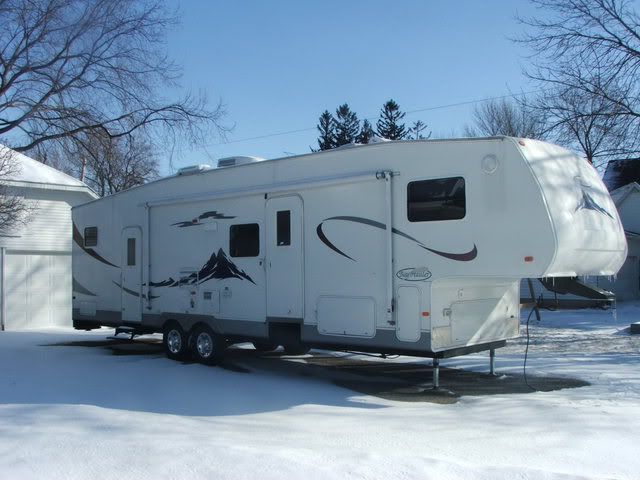 Here are a few pictures of TIPPYQ, our new cooking trailer. We do a lot of camping as a family and had a nice travel trailer. It took two comps of loading the smokers and gear in and out of the pickup and camper last fall to realize I didn't want to do that 10 times a year. So the search began for a toy hauler that would fit the family for camping and would accomodate my BBQ stuff...I found this a couple of hours away at a dealer in Wisconsin. Its a monster @ 37' long, but its got everything we need (I think I can get into most comps in this area with it, just gonna cost a bit more).
The garage area is a 10' long.We've got a lot of work to do to get her ready to head to Jefferson City Mo in April. I have a small Fridge and a row of cabinets ready for the right side and a stainless table for the left. I'm still looking for a 60" or smaller 3 bay sink to go in front of the stainless table. There are no outlets in the garage so I plan to run conduit for outlets and additional lights. I am also planning to convert the fuel station that is mounted in the frame under where the sink will go to a grey water tank for the sink drain.
I will post a couple more pics when we get it done!